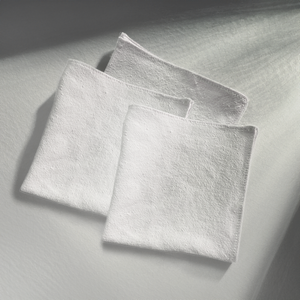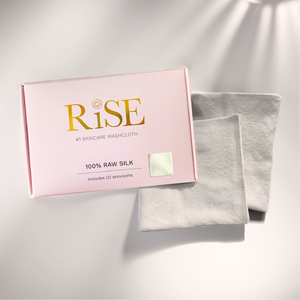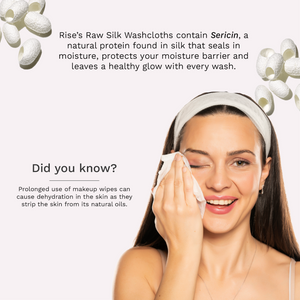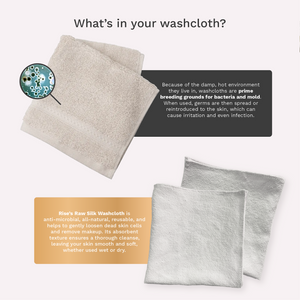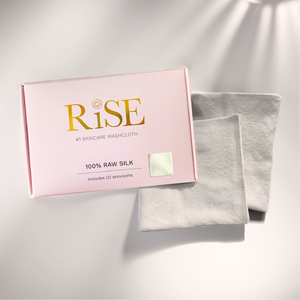 Raw Silk Skincare Washcloth - 3 Pack
THE BENEFITS

Our Raw Silk Skincare Washcloths are a game-changer when it comes to caring for your face and skin. Crafted from 100% pure silk fibers, these washcloths provide an unparalleled level of softness and gentleness. The delicate texture of silk ensures a luxurious experience every time you cleanse, exfoliate, or apply your favorite skincare products, gently loosening up dead skin cells and makeup. 
Nourish and Hydrate: Silk is not just a treat for the senses; it also offers numerous benefits for your skin. Its natural proteins help retain moisture and enhance the hydration of your skin, leaving it feeling supple and revitalized. Unlike traditional washcloths that can strip away natural oils, silk washcloths glide effortlessly over your skin, preserving its essential moisture balance. 
Gentle Exfoliation, Stunning Results: Exfoliation is a crucial step in any skincare routine, and silk washcloths excel in this domain too. The ultra-fine fibers of silk gently remove dead skin cells, unclog pores, and promote a smoother, more even skin texture. With regular use, you'll notice a reduction in blemishes, fine lines, and dullness, revealing a youthful glow that turns heads. 
Discover the secret to flawless skin and elevate your skincare routine by pampering and nurturing your face and skin with the unmatched softness of silk. 
INFORMATION
100% Pure Silk

All Skin Types

Reusable and Washable

3 Per Pack