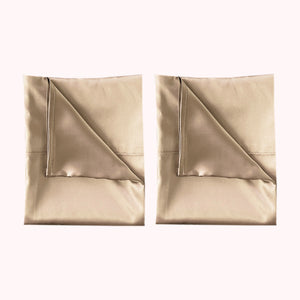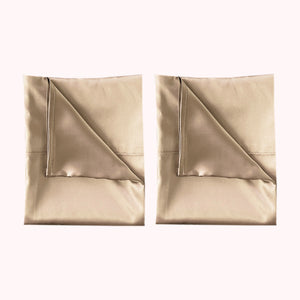 RISE Essential Satin Pillowcase - Golden Honey
THE BENEFITS

Good Hair for Days:
The smooth texture of the RISE Satin Pillowcases won't tug at your hair, helping you keep your hairstyle intact for days and minimizing bedhead. 
 Flawless Skin: 
The RISE Satin Pillowcase doesn't retain moisture, which keeps your skincare products on your skin instead of being absorbed by your pillowcase. It also keeps that ideal, natural oil on your skin where it belongs. All the moisture and nourishment your skin needs to RISE looking fresh and glowing.  
Cool Sleep:
The supple softness of the RISE Satin Pillowcase will make you want to fall asleep right when your head hits the pillow. Since the pillowcases are designed for airflow, you can sleep cool throughout the night without waking up to uncomfortable sweat on your face, neck, and hair.
INFORMATION
Standard/Queen Size: 20" x 30"

King Size: 20" x 40"

100% Polyester Satin

Machine Wash, Tumble Dry